Reinventing Indian Museum Experiences.
In a land rich with art, culture and history, how we experience these subjects, especially at institutions devoted to their care, is an area ripe for reinvention.


By Siddharth Khandelwal and Swati Paranjpe
For all art lovers, Indian museums have long been tempting but insipid spaces of antiquity. Forcing us to somehow find our way in a characterless maze. Moreover, in a land rich with art, culture and history, how we experience these subjects, especially at institutions devoted to their care, is an area ripe for reinvention.
Distressed charts, incorrect language and lifeless galleries are a testament to the prevalent experiences offered in our country.
"Museums are our go-to for inspiration; fascinating places that contextualise a culture while travelling across the world."
Personal passion to professional pursuit.

We soak in every city or country we visit, through the lens of history, evolution and changing influences. From the town of Bath in the UK, which can trace its name to the Roman baths still present from a millennia ago, to experiencing the evolution of Philips in Eindhoven. Or the value of the Power icon brought alive at MoMA, every nuance is mesmerising.
From our visits to the Philips Museum, Eindhoven (left) and the Town of Bath, UK (right).


"As replenishing fountains for our inspiration, museums have always been on our list of dream projects to design."
The Two of us, at the Stedelijk Museum, Amsterdam (left) and Design Museum, Copenhagen (right).
So when we were approached by the CSMVS (formerly Prince of Wales Museum), now considered among the top 3 museums in India, we were honoured. A slew of projects ranging from branding to designing phygital experiences had us excited and nervous with anticipation.
The CSMVS Museum, Mumbai (Image Credits @ Reuben Singh)
To begin, designing an exhibition for a Thanjavur Art collection.

Understanding an art form alongside the museum — delving into their processes — from receiving a collection to its curation and conservation, gave us a brand new appreciation for their rigorous approach to keeping art and culture alive.

From the moment we saw the collection, we were enamoured. An enc hantment that only grew the further we dived into the world of this classical South Indian painting style.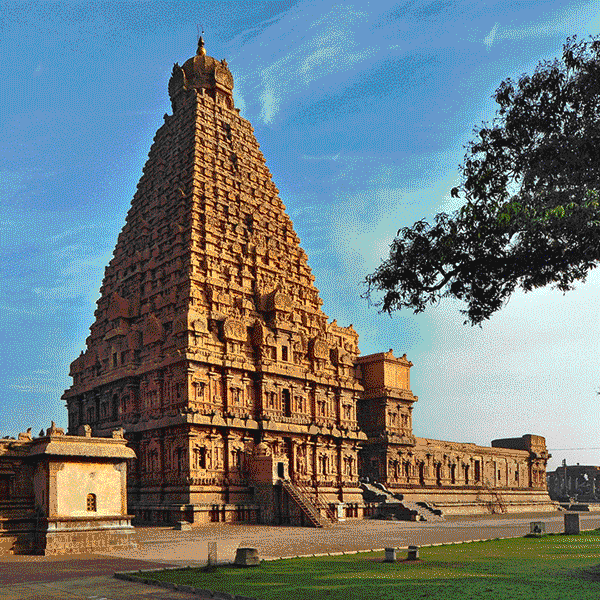 Every visit provided greater inspiration from
the paintings to their history.
A new approach to exhibition creation.

As non-traditional exhibition designers, we approached this as we do all projects, rooted in the science of Branding. We knew that the exhibition experience had to be a unique storytelling endeavour.
"Our narrative creation began by understanding the fascinating tale that has nurtured Architecture, Performing Arts and Painting Traditions for over 2000 years."
Thanjavur (both a city and an art form), is the cradle of South Indian culture. In understanding its history and evolution, we learned that two consecutive Chola dynasties were instrumental in its conception. The first in establishing, and the second in revitalising the temple architecture within the city.

The Brihadisvara Temple, Thanjavur. Built by Chola emperor Rajaraja I between 1003 and 1010 AD.
Even the past has an older story to tell.

It is on the walls of Thanjavur temples and the surrounding prayer halls that this art-form first began to flourish in the 1600s. But the influence and inspiration for its 'divine' creations hearken back to the decline of Buddhism in India, and the democratisation of Brahmanical thought, through the Bhakti movement, which began in South India. First coming to prominence in the seventh to eighth century CE, it spread northwards from Tamil Nadu through Karnataka and gained wide acceptance in fifteenth-century Assam, Bengal and northern India.
"Steeped in the religious beliefs of the times, the art form originally featured Hindu Gods, Goddesses or scenes from spiritual texts and myths."
But under the patronage of the Marathas, it evolved to incorporate royal portraits and rose to its zenith in the 1800s. Its fall from popularity in the early 20th century can be linked to the rise of 'divine' calendar art by the renowned Raja Ravi Verma.

The beginning of the 21st century saw a resurgence of the art form, with Thanjavur artists lending their skill and style to calendars and stained glass artworks. This rejuvenation was highlighted with a Geographical Indications (GI) tag in 2007, proof of Thanjavur art's long heritage and impact.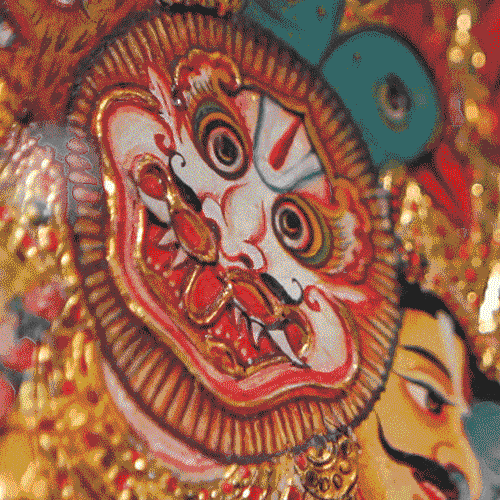 Detailed dimensions of the Thanjavur Collection
at CSMVS. (Image Copyright@CSMVS)
Re-crafting a tale that is two millennia old.

We realised that this story was astonishingly complex. A complexity compounded with the weaving of the museum's role as its future guardians. We wanted to pay homage to its roots but also bring forth the confluence of the art form, the museum and its patron. To unfold a journey of discovery and enchantment, that would continue long after the exhibition is seen and felt.

One of the most iconic aspects of Thanjavur paintings is how godlike subjects are brought to life in three-dimensional relief through the layering of materials. We played with these core ideas of Dimensionality and the Divine to craft a singular narrative that encapsulates the art form's technique and history. Its cultural significance and journey from prominence to obscurity and back to the limelight.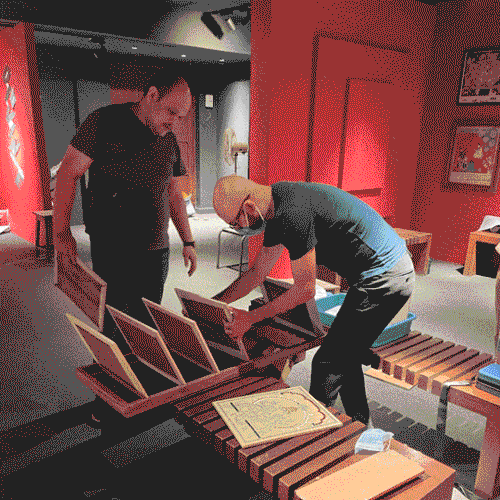 From inspiration, to ideation and execution.
A journey of careful consideration.
"Three Dimensions of Divinity — Thanjavur Art Revealed, as an exhibition name and experience builds intrigue and authenticity and becomes a unique idea that is cohesively expressed in a myriad of ways, physical and digital."
At the centre of this dimensionality is the word THREE. It represents not only the three spaces into which the exhibition is divided but also the confluence of the art form, the museum and the sacred quality, we hope it can take in each visitor's heart who discovers this unique culturally defining heritage.
A multilingual dynamic logo celebrating the art, the audience and the culture.

From our multilingual, dynamic logotype to unique interventions that meaningfully build connections to the story of Thanjavur, we were able to create a seamless, engaging and multi-dimensional journey.

The exhibition has delighted over 60,000 Thanjavur novices and veterans alike, since it opened as part of the CSMVS's 100-year celebrations in January. Hopefully, it will continue to inspire future visitors till it closes on 30th June.
"To hope, to dream, to dare.

With this initial foray, our desire to continue work in the art and culture world has fanned from spark to flame. Secure in the knowledge that we can add true value to the space."
India's rich heritage has been in peril for a while. Stories lost to new generations, breed a false sense of ownership or callous disrespect. Whether due to a lack of resources, guardianship and/or the awareness of its finer nuances, or a combination of all the above, we do not know.

Our past has to be made relevant and unbiased to political and religious fervours. As creative minds it is our duty to guard our shared heritage. Through our expertise in branding and design, the House of Two would like to use inclusive storytelling, phygital re-interpretations and methods of monetisation to reinvigorate the art and culture landscape of this city and our country. Together we can create a lasting impact.

If we only dare to try.
Special thanks to the curatorial and conservation teams at CSMVS. All paintings and images of paintings are © CSVMS Mumbai.